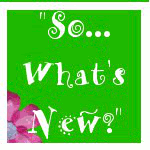 Welcome to the So...What's New Blog Hop. This hop is dedicated to showing off the talents of some new bloggers (with the help of one or two who have been at it awhile). This is a two day hop and we hope you will stop by each blog and see what we are up to this weekend. Each blogger has been asked to create things that show off who they are a little bit.
You should have arrived here from Adele's at
Adele's Cricut Creations
. If you have stopped by to visit me and wish to start at the beginning of the hop today head over to Leah's at
My Craft and Chat Cafe
and you can follow along the complete list.
Today I am finally sharing my finished Halloween gift boxes. I am making about 20 of these to give out as simple Halloween gifts to teachers and my co-workers. I bought the fun PocketBacs at Bath and Body Works and created these fun boxes using a tutorial from a fellow blogger (link below). Here are the supplies I needed for the box: Ruler, 12 inch cutter, scoring board, thermo tape, corner rounder and square punch (I used the Creative Memories one to make the opening)
After I made the boxes following
Pink Buckaroo Designs
awesome tutorial I looked at all my holiday themed carts and found the different shapes I wanted for the front. I selected the pumpkin off Celebrate with Flourish and the vampire off Mini-Monsters.
Once I had made all the designs for the front I felt that the boxes lookeda little plain with just that so I cut out circles using my Creative Memories cutting system. I embossed them wih the fun sprial pattern and than to add a little more I used different colored ink pads to stamp on some additional color. I even inked the sides on some of the circles. I think when you add that to the back and fun ribbon to the top (all from my stash) it looks really fun. I also added a cute stamp form the Joann's dollar bin on the inside.
NOW: What is a hop without some candy? Seeing as I went with a Halloween theme today I am going to offer some simple Halloween treats as well: cookie cutters, ribbon and stickers all in the spirit! To get a chance to win leave me a comment below. I will take all the comments from today and tomorrow's post and pick one random winner (United States only..sorry!) on Tueday, October 11. Good luck!
I hope you have a great time hopping and will come see what we have to share tomorrow. For me it is back to my main love: scrapbooking and a fun layout. Remember to post a comment on both days to have a better chance at winning my blog candy!